Application
Network Resilience
The cutting-edge trial, conducted in partnership with pureLiFi, uses LED lights to send large amounts of data, while appearing as white light to the human eye. This allows users to access the internet roam around the space while staying connected to high-speed secure wireless internet through light.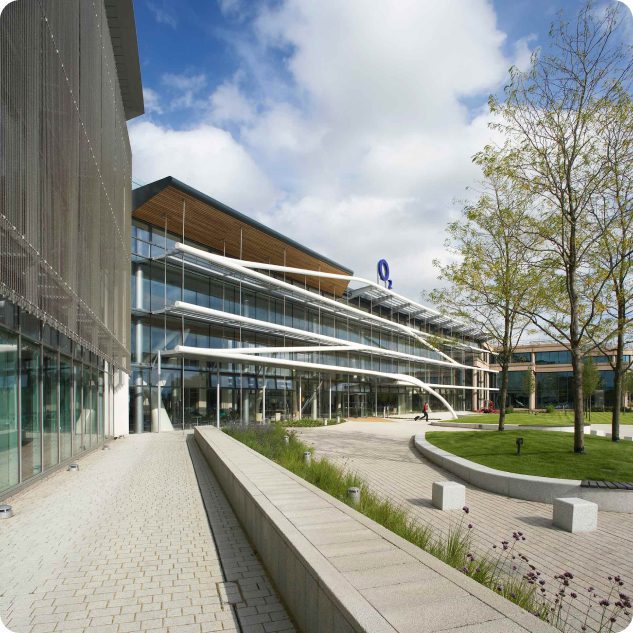 LiFi Installation at O2 Slough HQ
As part of the trial, O2 has installed pureLiFi's LiFi-XC system, comprising of nine LiFi-enabled LED light bulbs, in the 'Explore Room' of its Slough HQ. The system enables data to be transmitted from a LED light bulb and back at high speeds through adjustments the bulb's brightness. The result is a high-speed, bi-directional and fully networked wireless communication of data.
The LiFi system has the potential to serve as a serious way of greatly extending wireless communications beyond WiFi and Cellular which uses radio frequencies, and often suffers from congested spectrum, security vulnerabilities and user experience challenges. Its reliance on the visible light spectrum aims to enable safer, more reliable and more secure wireless data communication than WiFi. It also has the potential to reduce infrastructure complexity and energy consumption.
What the client said
---
At O2 we're committed to building the best network possible for our customers, and a huge part of that is making sure we're ahead of the pack in testing the latest technology. Our LiFi trial shows how you can deliver high-speed connectivity to customers in new ways and is another example of how we're future-proofing our network as we pave the way for 5G in the UK.
Derek McManus, Chief Operations Officer, O2
What Pure Lifi said
---
LiFi is capable of unlocking unprecedented and much-needed data and bandwidth, and we are delighted that O2 has chosen to partner with pureLiFi to explore this tremendous potential. O2 is at the forefront of championing technologies to provide real solutions for 5G and beyond, and we look forward to working with them towards our common goal.
Alistair Banham, Chief Executive Officer, pureLiFi
About O2 Telefonica
O2 is a mobile network operator and the principal commercial brand of Telefónica UK Limited, which is part of the global telecommunications group Telefónica S.A, headquartered in Spain and operating in Europe, and North, Central and South America.
The company is the network of choice for mobile virtual network operators such as giffgaff, Sky Mobile and Lyca Mobile.
O2 was awarded Best Network Coverage in 2018 by uSwitch and with over 32 million connections to the network, it runs 2G, 3G and 4G services across the UK, as well as operating its nationwide O2 WiFi service.